The Lookout at Lake Chelan
The Lookout at Lake Chelan is a lakeside village community that incorporates many principles of New Urbanism in its design and amenities. It is located near the town of Chelan in Washington state. The community was created with a vision to provide a unique place for gathering, recreation, and connection with nature.
The Lookout features a variety of home designs that accommodate different needs and preferences. It emphasizes neighborhood connections, with home porches designed to facilitate interactions between residents.
Amenities within the community include a marina with boat rentals, paddleboards, and kayaks. There are also a lot of parks and playgrounds that offer plenty of opportunities for outdoor activities. The community has two swimming pools to cool off during summer months. These parks filter between the homes and features fire pits and barbeque areas for social gatherings. The Lookout also hosts various community events throughout the year, including wine tastings, barbeque cook-offs, and summer concerts. These events encourage community interaction and engagement.
In line with the principles of New Urbanism, The Lookout at Lake Chelan emphasizes walkability, with homes, amenities, and public spaces all located within a short walking distance of each other. Its mixed-use design, combining residential properties with community amenities, aims to reduce the need for car usage. The diverse range of housing options accommodates various household types and sizes, while the quality architecture and urban design aim to create a strong sense of place.
The use of traditional neighborhood structure emphasizes the importance of public spaces for gatherings and events, encouraging community interactions. The community's location by the lake and the inclusion of a vineyard and orchard also tie in with New Urbanism's emphasis on sustainability and integration with natural surroundings.
Search Homes For Sale in The Lookout Chelan
Let's Connect On The Compass App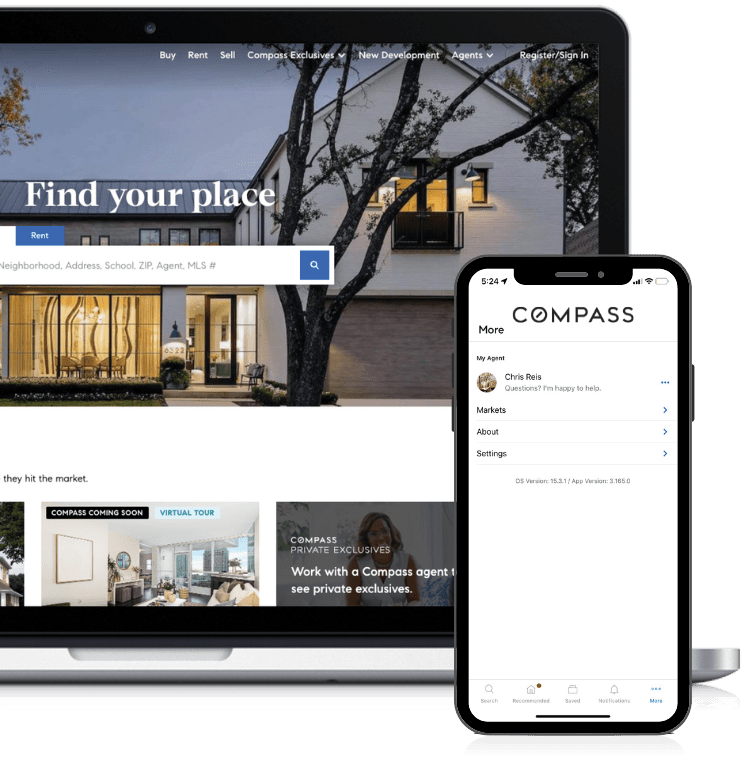 The Compass real estate app offers numerous benefits to its users, especially when paired with a professional agent. With its advanced technology, the app provides comprehensive and up-to-date information on properties, neighborhoods, and market trends, making it easier for home buyers and sellers to make informed decisions. Scanning the link will pair you with Reis Residential, further streamlining the process by offering personalized guidance and support, saving you time and effort. By using the Compass app with us, you can have a seamless, stress-free experience in buying or selling your home.
Average Lookout Home Prices in Chelan
Want Monthly Home Value Insights?
I highly recommend using the Homebot app for all your home-related financial needs. With Homebot, you can monitor your property values and equity in real-time, get personalized financial insights and suggestions, and manage your monthly mortgage payments with ease. This app is a valuable tool that can help you make informed decisions about refinancing or selling your property, identifying opportunities for cost-saving, and exploring potential property investments.
Get Your Complimentary Report:
Need A Realtor That Knows The Lookout At Lake Chelan?
As a seasoned real estate professional specializing in The Lookout at Lake Chelan community, I offer knowledge, extensive market insights, and dedicated service tailored to meet your unique needs. Leveraging my comprehensive understanding of the community's layout, amenities, and the principles of New Urbanism upon which it's built, I can guide you to the perfect home that aligns with your lifestyle or help you position your property in a way that maximizes its appeal to potential buyers. Trusting me with your real estate needs means benefiting from my network of contacts, negotiation skills, and commitment to providing personalized service that makes the buying or selling process seamless, efficient, and rewarding. Whether you're a first-time buyer, looking to sell, or seeking a dream vacation home in this beautiful lakeside community, I am here to make your real estate journey a successful and enjoyable one.
Find Your Place No Matter Where You Go
Compass is a coast-to-coast referral network that now covers 45% of the country's population. Anywhere you want to go – I can connect you to one of the 22,000+ talented and hardworking Compass real estate professionals to find your dream home.