Bear Creek CC Neighborhood in Woodinville, WA
Bear Creek Country Club in Woodinville, WA, is a prestigious neighborhood that beautifully blends historical richness, natural splendor, and a robust real estate landscape. Located amidst verdant surroundings and featuring a renowned private golf course, Bear Creek Country Club offers a lifestyle of leisure and luxury.
The history of Bear Creek Country Club dates back to the late 20th century when the first homes were built around its centerpiece, an 18-hole championship golf course. Over the years, the neighborhood has evolved into a sought-after residential community while preserving its historical charm and love for golf.
The real estate in Bear Creek Country Club encompasses a variety of elegant homes, many of which overlook the manicured golf course or enjoy views of tranquil natural landscapes. The architectural styles vary from modern custom-built homes to classic designs, each property embodying a unique blend of luxury and comfort.
Living in Bear Creek Country Club is about embracing a relaxed lifestyle in a close-knit community. Plus, with its proximity to downtown Woodinville, residents have access to an array of urban amenities including dining, shopping, and entertainment options.
Investing in real estate in Bear Creek Country Club is appealing due to its attractive location, historical significance, and steady property value appreciation. Whether you're a home buyer seeking a peaceful retreat within a golfing community, or an investor looking for high-value properties, Bear Creek Country Club presents a wealth of opportunities. Embark on your Bear Creek Country Club real estate journey today.
Search Homes For Sale in Bear Creek Country Club
Let's Connect On The Compass App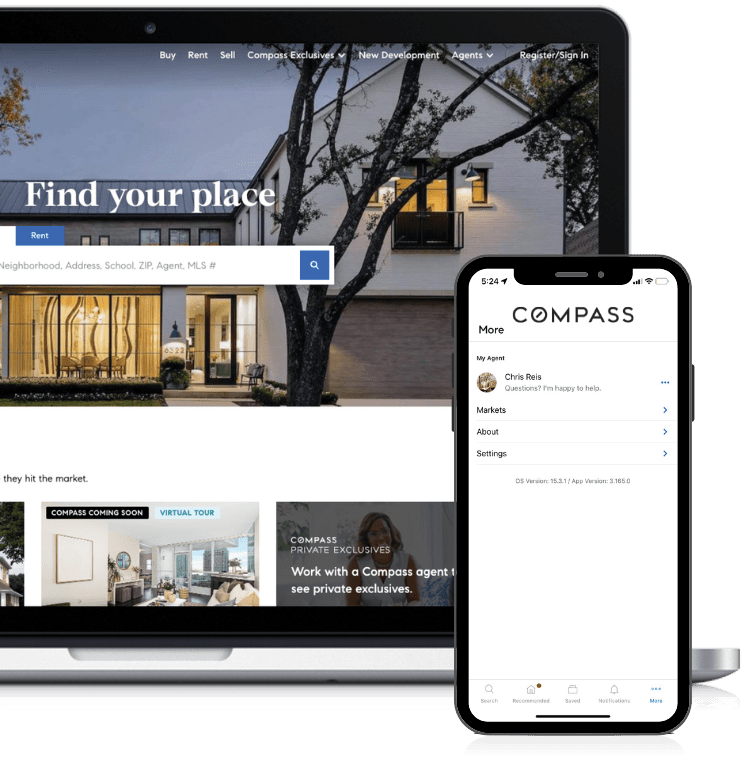 The Compass real estate app offers numerous benefits to its users, especially when paired with a professional agent. With its advanced technology, the app provides comprehensive and up-to-date information on properties, neighborhoods, and market trends, making it easier for home buyers and sellers to make informed decisions. Scanning the link will pair you with Reis Residential, further streamlining the process by offering personalized guidance and support, saving you time and effort. By using the Compass app with us, you can have a seamless, stress-free experience in buying or selling your home.
Average Home Prices in Bear Creek Country Club
Want Monthly Home Value Insights?
I highly recommend using the Homebot app for all your home-related financial needs. With Homebot, you can monitor your property values and equity in real-time, get personalized financial insights and suggestions, and manage your monthly mortgage payments with ease. This app is a valuable tool that can help you make informed decisions about refinancing or selling your property, identifying opportunities for cost-saving, and exploring potential property investments.
Get Your Complimentary Report:
Looking For A Real Estate Agent in Bear Creek?
If you're looking to buy or sell real estate in the Bear Creek Country Club neighborhood in Woodinville, WA, choosing me as your realtor will give you a decisive edge. 
As a home buyer, you'll benefit from my insider knowledge of the Bear Creek Country Club neighborhood. I can pinpoint homes that not only meet your needs and budget, but also provide the lifestyle and amenities that this prestigious community offers. My goal is to simplify your home buying process, making it as smooth and enjoyable as possible.
For homeowners aiming to sell, my extensive experience in maximizing value allows me to accurately price your property and implement effective marketing strategies. Utilizing cutting-edge tools and my broad network of potential buyers, I can ensure that your home stands out in this competitive market, securing the best price in the least amount of time.
My dedication to my clients, combined with my market expertise and professionalism, distinguishes me in the Woodinville real estate scene. By choosing me as your realtor, you're opting for personalized service, seamless transactions, and a commitment to achieving your real estate goals.
Start your Bear Creek Country Club real estate journey today and discover the difference a seasoned, dedicated realtor can make.
Find Your Place No Matter Where You Go
Compass is a coast-to-coast referral network that now covers 45% of the country's population. Anywhere you want to go – I can connect you to one of the 22,000+ talented and hardworking Compass real estate professionals to find your dream home. 
Homes For Sale near Bear Creek Country Club