Nested on the shores of Lake Washington, just across from Seattle, Medina, Washington stands as a luxurious testament to the region's rich history and burgeoning real estate market. A gem of the Pacific Northwest, this picturesque city offers an enticing blend of historical charm and modern luxury, making it a coveted destination for discerning homeowners.
Established in 1914, Medina's historical depth can be traced back to the Native Americans who once populated its idyllic shores. Its lush landscapes, rich in resources, provided a home for the Duwamish Tribe, a history that has subtly shaped Medina's present. Named after the holy city of Medina in Saudi Arabia, this town steadily grew from its farming origins to become a residential haven for tech magnates, sports icons, and billionaires alike.
Boasting a thriving real estate landscape, Medina is renowned for its luxurious homes and pristine neighborhoods. In recent years, it has seen an exponential rise in property values, with a market that is characterized by strong demand and limited inventory. With a median home value that consistently surpasses the seven-figure mark, Medina's real estate is truly a seller's market.
The lure of waterfront properties, coupled with an unparalleled lifestyle, has drawn in many of America's affluent individuals. The notable residents of Medina, such as Bill Gates and Jeff Bezos, testify to its attractiveness to successful entrepreneurs and innovators. This has driven a constant demand in the real estate market, making Medina not just a home, but an investment opportunity.
One of the keys to Medina's real estate success is its combination of luxury living and a wealth of amenities. High-end shopping, gourmet dining, and outstanding schools contribute to the city's charm. The proximity to Seattle's tech hubs and the tranquil beauty of Lake Washington makes Medina an epitome of balance between work and leisure, which appeals greatly to modern homeowners.
Medina, WA, with its rich history, flourishing real estate market, and a premium lifestyle, is more than just a city. It is a testament to luxurious living and investment potential, appealing to those who seek a harmonious blend of past, present, and future. For those looking to invest in Pacific Northwest real estate, Medina beckons with open arms.
Search Homes For Sale in Medina
Let's Connect On The Compass App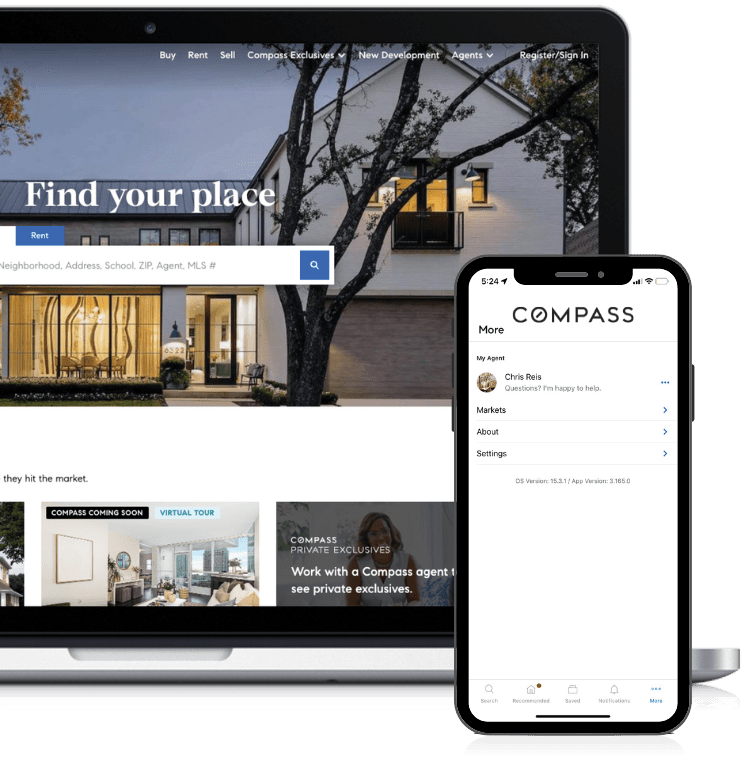 The Compass real estate app offers numerous benefits to its users, especially when paired with a professional agent. With its advanced technology, the app provides comprehensive and up-to-date information on properties, neighborhoods, and market trends, making it easier for home buyers and sellers to make informed decisions. Scanning the link will pair you with Reis Residential, further streamlining the process by offering personalized guidance and support, saving you time and effort. By using the Compass app with us, you can have a seamless, stress-free experience in buying or selling your home.
Average Home Prices in Medina
Want Monthly Home Value Insights?
I highly recommend using the Homebot app for all your home-related financial needs. With Homebot, you can monitor your property values and equity in real-time, get personalized financial insights and suggestions, and manage your monthly mortgage payments with ease. This app is a valuable tool that can help you make informed decisions about refinancing or selling your property, identifying opportunities for cost-saving, and exploring potential property investments.
Get Your Complimentary Report:
Looking For A Real Estate Agent in Medina?
Whether you're looking to buy or sell a home in Medina, WA, our unparalleled real estate services are your key to success. For buyers, we leverage our comprehensive understanding of Medina's market trends and in-depth community knowledge to find you the perfect property that aligns with your lifestyle and investment goals. For sellers, our expert marketing strategies, negotiation skills, and wide network guarantee maximum exposure of your property and the best possible sale price. With our team, you'll experience a seamless real estate journey that translates into exceptional outcomes and peace of mind.
Find Your Place No Matter Where You Go
Compass is a coast-to-coast referral network that now covers 45% of the country's population. Anywhere you want to go – I can connect you to one of the 22,000+ talented and hardworking Compass real estate professionals to find your dream home. 
Homes For Sale near Medina